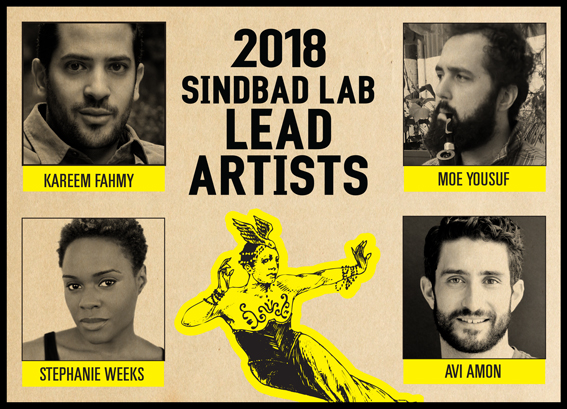 In May–June 2018. Target Margin Theater will present the Sindbad Lab as a performance festival dismantling and rebuilding all seven voyages from the classic Sindbad tales from The Thousand and One Nights. Lead Artists selected to drive the individual productions include composer and musician Avi Amon, director Kareem Fahmy, actor and director Stephanie Weeks, and Target Margin Theater Associate Artistic Director Moe Yousuf.
The Sindbad Lab will also include supplemental programs to enrich the conversation and engage our community including a Dialogue Series with artists, activist and scholars of The Thousand and One Nights; an intergenerational storytelling workshop; and a Film series of problematic western film adaptation.

2018 SINDBAD LEAD ARTISTS:

AVI AMON is a composer, pianist, and sound artist. His work has been developed or presented by: Actors Theatre of Louisville (2017 Humana Opera Commission), Spoleto Festival USA, The O'Neill Theater Center, Yale REP, Prospect Theater, BAM, Ars Nova, BRIC, La Mama, and in a 100-year-old grain Silo in Buffalo, NY. Residencies and Awards: Exploring the Metropolis at JCAL, Judson, Anna Sosenko Assist Trust, Target Margin Theater, New Dramatists, Weston Playhouse. Avi is the resident composer at the 52nd Street Project. He received his MFA from NYU's Graduate Musical Theatre Writing Program, where he currently teaches.
KAREEM FAHMY is a Canadian-born director of Egyptian descent who focuses on new play development. He is a 2017-2018 National Directors Fellow with The O'Neill/NNPN/The Kennedy Center/SDC. He has directed and co-conceived a number of world premiere productions including Sevan K. Greene's This Time (Rising Circle, New York Times Critics' Pick), James Scruggs's 3/Fifths (3LD, New York Times 5 Must-See Shows), and Victor Lesniewski's Couriers and Contrabands (TBG Theatre). Other NYC credits: Rohina Malik's The Mecca Tales (Voyage Theater Co.), Adam Kraar's Alternating Currents (world premiere, Working Theater). Kareem has developed plays with organizations including New York Theatre Workshop (where he is a Usual Suspect), MCC, Second Stage, Soho Rep, New Dramatists, E.S.T., Sundance, The Civilians, and Berkeley Rep. MFA: Columbia.
STEPHANIE WEEKS has performed at many regional theaters and Off-Broadway. Recently seen as Christine in Target Margin Theater's Mourning Becomes Electra. Favorite roles include Salima in Ruined, Belle in A Christmas Carol, Tituba in The Crucible and Shark in Oh My God I'm So Thirst(y), Innovative Theater nomination. Film: Ex-Doofus… Dir: Melvin Van Peebles, Tribeca Film Festival; Rosy (2017). Weeks recently directed a production of Eclipsed at The University of Utah that has been chosen to be showcased by The Kennedy Center Festivention in Mesa, Arizona in February 2018. Training: London Academy of Music and Drama, American Conservatory Theater, MFA.
MOE YOUSUF is a theater maker, creative producer and Associate Artistic Director of Target Margin Theater. He has presented works at PRELUDE, Dixon Place, Abrons Arts Center, SoHo Rep Walkerspace, The Bushwick Starr Reading Series, Co-Prosperity Sphere, Rubber Rep Pilot Balloon and Title Point SALON!. Recently, he produced the NYT Critics' Pick 150th Anniversary revival of The Black Crook and is currently an Abrons Arts Center Artist-in-Residence, creating a meditation / exorcism of 1927 film The Jazz Singer with Joshua William Gelb.. He is a Board Member of ART/NY and holds a MFA in Dramatic Writing from NYU Tisch School of the Arts.
********
Since 1995 the TMT Lab has been an essential program of Target Margin supporting over 1,000 emerging artists in the creation of new work in New York City. Curated by David Herskovits and Moe Yousuf, the Lab removes institutional pressures by providing financial resources, rehearsal / performance space, and marketing / ticketing support. At the helm of each production is a Lead Artist who can be a director, actor, writer, designer, puppeteer, manager, anything: we believe anyone can artistically drive a production. Each season we curate the Lab's overarching theme and commission Lead Artists to adapt an existing source or create new work under our season theme. Over the past 25 years the TMT Lab has been responsible for adding consistent and surprising depth to our artist community; we consider it the company's most important renewable resource.
If you are an artist interested in getting involved with the TMT Lab, please email info@targetmargin.org for more details.