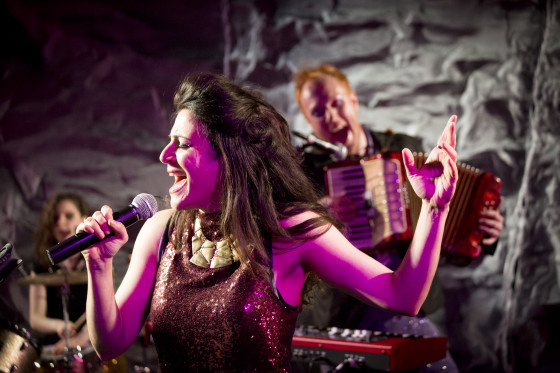 Unseen O'Neill Lab
The Brick | December 1-17, 2016
Tickets $18
Join us December 1 – 17 for the UNSEEN O'NEILL LAB at The Brick (579 Metropolitan Ave) with productions of some of Eugene O'Neill's known but rarely-seen works including Beyond the Horizon, Dynamo, and The Great God Brown. The Lab will also feature a production of Marco Millions created in collaboration with the Center for the Humanities' Translation Seminar on Public Engagement and Collaborative Research at the CUNY Graduate Center. In addition to a special work-in-progress showing of Mourning Becomes Electra directed by David Herskovits, and a Military Veteran Theater-Making Workshop with Maurice Decaul.
********
Beyond the Horizon
by
Eugene O'Neill
Lead Artist:
Ann Marie Dorr
"Her mind already sinking back into that spent calm beyond the further troubling of any hope" is the final line of O'Neill's horribly well-made, Pulitzer Prize-winning, starry-eyed, naive tragedy with New England home cooking, two brothers, one girl named Ruth, a farm, and whatever the hell is beyond…beyond…beyond the horizon?
Performers: Paul Ketchum, Alexander Setzko, Daniel Velasco and Courtney Williams
Voice-over: Edward Bauer, Kaaron Briscoe, and Don Castro
Concept Squad: Ásta Bennie Hostetter, Megan Lang, Barbara Samuels
Sound Designer: Drew Weinstein
Artwork: Kaitlyn Dorr
Stage Manager: Traci Bargen
Production Assistant: Zev Speigel
Video Consultant: Bob Wuss
December 1st at 7pm
December 2nd at 7pm
December 3rd at 3pm & 7pm
December 4th at 5pm
********
Dynamo
by Eugene O'Neill
Lead Artist: Kathleen Kennedy Tobin
Who is the more alluring, whose shape is more lovely, whose siren song the sweetest: the girl next door? Or a hydroelectric power generator? A play about taking Technology as your God, and breaking your mother's heart.
Puppeteers: Leah Ogawa and Valerie Pham
Sound Designer: Kate Marvin
Stage Manager: Elena Chapman
Voice-over Cast: Carolyn Bauemler Bost, Kaaron Briscoe, Aron Canter, Mary Neufeld, Michael Pemberton, Steven Rattazzi
December 2nd at 10pm
December 4th at 2pm
December 15th at 4pm
December 16th at 10pm
********
Durned Queer
by Eugene O'Neill
Lead Artist: David Herskovits
FREE PERFORMANCES / RSVP TO ATTEND
When O'Neill writes the perfect American family, it is the Mannons: off-center, twisted, just plain "Durned Queer". Our selection of in-progress work on Mourning Becomes Electra drills into the murky contradictions of an all-American tribe.
Performers: Satya Bhabha, Kristen Calgaro, Avi Glickstein, Mary Neufeld, Stephanie Weeks, Eunice Wong
Lighting Designer: Lenore Doxsee
Sound Demon: Jesse Freedman
Audio/Mic Engineer: Matt Good
Costume Assistant: Keira McGee
December 9th at 4pm
December 10th at 2pm & 5pm
********
Marco Millions (in collaboration with the Center for the Humanities at the CUNY Graduate Center)
by Eugene O'Neill
Lead Artists: Claire Moodey and Bess Rowen
This staged adaptation of Marco Millions uses O'Neill's text as a launching point for a linguistic and thematic translation by CUNY students, staff, and alumni, in collaboration with the Center for the Humanities. Come enter a world where Marco Polo can now speak Hindi, German, Japanese, Portuguese, Spanish, and English — this is still the story of Marco Polo, but it is also the story of the cast's interpretation of this obscure O'Neill play. This event is presented as part of Translation, an interdisciplinary research group that investigates how translation might be understood as a process of transformation that deepens engagement with places, people, cultures, and languages. The group is supported by the Mellon Seminar on Public Engagement and Collaborative Research.
Performers: Hildegard Hoeller, Amber Hutchinson, Randy Lopez, Mayurakshi Sen, Seika Takeuchi, Robert Trevisan
Sound Designer: Almeda Beynon
Costume Designer: Karen Boyer
Puppet Designer: Greg Corbino
Makeup Artist: Jazmine Shirley
Assistant Costume Designer: Christian Cordova
Stage Manager: Shayna O'Neill
December 8th at 7pm at the Martin E. Segal Theatre: 365 5th Ave, Manhattan
December 9th at 7pm at the Martin E. Segal Theatre: 365 5th Ave, Manhattan
December 11th at 7pm at The Brick
********
The Great God Brown
by Eugene O'Neill
Lead Artist: Eva von Schweinitz
"I love, thou lovest, he loves, she loves! She loves, she loves – what?"
Yes, what? Can we ever – even in the most intimate relationships – be, and be seen as, our true selves?
Dion loves Margaret who only loves him when he's wearing masquerade. Add a jealous best friend and a prostitute savant to a mix of exuberant exclamations and existential punchlines, and soon questions about truth, failure, and identity arise.
Performers: Alessandro Magania, J Molière, Javan Nelson, Nicolas Noreña
Set Designer: Dan Daly
Mask Designer: Abby Felder
Lighting Designer: Megan Lang
Sound Designer: Phillip Gerson
Costume Designer: Daniel Tyler Mathews
Dramaturg: Megan McClain
Stage Manager: Emma Johnson
Assistant Director: Toney Brown
December 14th at 7pm
December 15th at 7pm
December 16th at 7pm
December 17th at 3pm & 7pm
********
Military Veteran Theater Making Workshop
Led by TMT and Maurice DeCaul
FREE / RSVP TO ATTEND
Through conversation, writing, and movement we will explore the themes of Eugene O'Neill's work which will culminate in a small presentation at the end of the day. Space is very limited.
December 16th from 10am to 5pm
********
The TMT Lab offers smaller, fully produced productions and has enlisted the talents of over 1,000 theater artists since 1993. At the helm of each production is a Lead Artist- whether that person is a director, actor, writer, designer, or puppeteer, we believe anyone can drive a piece! We curate each season's Lab under an overarching theme. We then work with each Lead Artist to find the right source material, and from then on they are provided a stipend, budget, artistic resources and, most importantly, the freedom to shape their work.
If you are an artist interested in getting involved with the TMT Lab, please email info@targetmargin.org for more details.