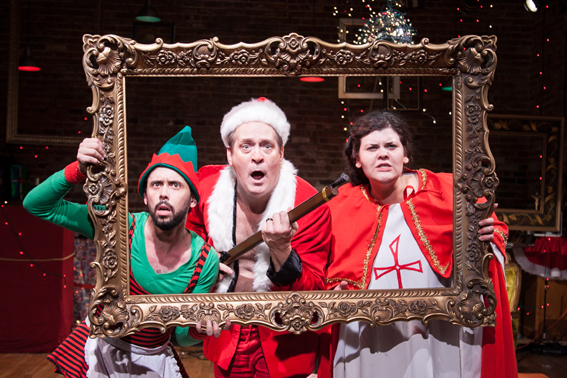 The TMT Lab
December LAB @ JACK: December 11-21. (Please note that the season brochure calendar had a misprint. The first week of shows will take place 12/11-12/14 and the second week of shows will take place 12/18-12/21.)
The TMT Lab offers smaller, fully produced productions and has enlisted the talents of over 1,000 theater artists since 1993. At the helm of each production is a Lead Artist—whether that's a director, actor, writer, designer, or puppeteer, we believe anyone can drive a piece! We here at TMT curate each season's Lab under an overarching theme, this year's being Yiddish Theater. We then work with each Lead Artist to find the right source material, and from then on they are provided a stipend, budget, artistic resources and, most importantly, the freedom to shape their work.
Target Margin's second year of Beyond the Pale expands into Yiddish literature and culture. The TMT Lab will include the work of playwrights, poets, novelists, and essayists, including the three great crowns of Yiddish literature – Sholem Aleichem, Y.L. Peretz and Mendele Moykher Sforim. We've got the left, the right, the enlightenment, introspectivism, sweatshop poets from the Lower East Side and modernist writers from Eastern Europe.
It all begins in December at JACK with four diverse shows exploring Yiddish poetry.
12/11-12/14 at 7:30pm; late night show 12/13 at 9:30pm
Sisters Mine
Lead Artist: Alex Randrup
A spool of thread spins the poetry of Morris Rosenfeld and Anna Margolin into a kaleidoscopic cutting of the historical cloth. Moments from within and without the Triangle Factory Fire burst in this investigation of the artistic expressions of tragedy and time.
A double feature with…
Celia

Lead Artist: Raymond Blankenhorn
A collection of vignettes brings to life the brilliant and provocative mind of Celia Dropkin (1887-1956), the sexiest Jewish poet since the Rose of Sharon. This isn't your mother's seyder tkhines. Get ready for Yiddish Rated R.
Special FREE Yiddish Poetry Reading 12/15 at 7:30pm with Shane Baker (reading Y.L. Peretz's Monish), Adrian Silver and more! RSVP to info@targetmargin.org
***
12/18-12/21 at 7:30pm; late night show 12/20 at 9:30pm
DAY?NIght?fuck…

Lead Artist: William Burke
Text from Moyshe-Leyb Halpern/william burke
A mashing of Yiddishness, Moyshe-Leyb Halperness, the modern degradation of ritual and values and the flurry/fury of New York, the sexy allure of the Williamsburg Bridge and the blasting of internal and external urges which at times will be a harsh quiet whisper of insanity or maybe…just maybe a murmur wondering how full does the heart have to be before it explodes? Answers? Answers.
A double feature with…
Outside/In

Lead Artist: Emily Rea
How do words travel? Exploring both the political and domestic concerns of early 20th century Yiddish poets, Outside/In imagines a space that is both public and private. From a living room to the printed page to the airwaves and beyond, a host of writers explore and explode early notions of broadcasting and publication, giving voice to a rich historic landscape through text, song, and play.
***
Stay tuned for our upcoming LAB performances!
February LAB @ Abrons Arts Center: February 12-22
June LAB @ The Secret Theatre: June 4-14
Interested in helping out with the TMT Lab or finding on more info? Inquire below and check out last season's Yiddish Lab.