INSTITUTE FOR COLLABORATIVE THEATER MAKING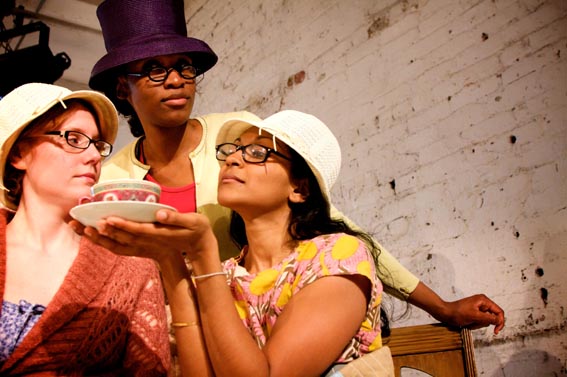 Interested in knowing what our 2014 Fellows have been up to? Check out our blog to find out more. Our 2014 Fellows are guest blogging all Fall.
TMT's open application period for the second year of our Institute for Collaborative Theater Making is now closed. Thanks so much for your applications, we can't wait to dig into them.
______________________
About the Institute:
Our Institute is a place where Fellows challenge themselves and the form of theater, ask what theater can be, and fearlessly embrace surprising and unexpected answers. Potential Institute Fellows should be hungry to reinvent what they want to make happen in a theater.
Institute Fellows will read, see, discuss, and make, all through the lens of our core company principles:

DIFFERENCE: We strive to discover, to do something not known, to make it new. We really mean it and we really do it. We value form-breaking work and artistic originality above all.

QUESTIONING: There are no assumptions in the Institute and in our work. Do you know what a play/production is? We don't. Let's locate the assumptions and set them aside. Consider everything.

FAILURE: Our linking principle. Let's get an A or an F. Let's fail big and surprise ourselves in the process.
What will this Institute be? The truth is, we have no idea; the TMT Institute will evolve over time and will be tailored to the makeup of each year's group. The 2014 pilot year Fellows have been meeting, discussing, seeing, researching and are about to embark on end-of-year process projects. For the 2015 Institute, we do know some starting facts. We know it will involve study, practical work and reflection. This is not an Institute imparting the knowledge of one person or one technique: we are Against Mastery. We know it will require a yearlong commitment (see timeline below). And we know that it won't cost you a dime- in fact, you will receive a stipend of $1,000 for your commitment for the year.
What's the timeline? The deadline for applying for 2015 was October 15, 2014 at midnight. We will then review applications and conduct interviews, with the aim of choosing our Fellows before the end of the year. In January or February 2015 we will hold a 1-2 week intensive session followed by sustained meetings through the Spring. In late Spring we will hold another weeklong intensive. Individual mentorship will occur throughout the Summer with a culminating something (panel? showing? party? we don't know!) in the Fall/Winter of 2015.
Who should apply? We are looking for 5 emerging artists who have demonstrated a serious commitment to making art and a shared interest in theater and our principles. Applicants should have substantial professional experience or an advanced degree. We want people who have arrived at a grasp of theater and the field and are prepared to throw it away. Applicants may emerge from any theatrical discipline (actors, designers, writers, directors, producers, stage managers, administrators, etc.) as long as they care about making. We will also happily accept applications from other artistic fields (music, visual art, literature, etc.) as long as the connection to theater is clearly articulated.
Subsidized studio space provided by the A.R.T./New York Creative Space Grant, supported by the Andrew W. Mellon Foundation.