INSTITUTE FOR COLLABORATIVE THEATER MAKING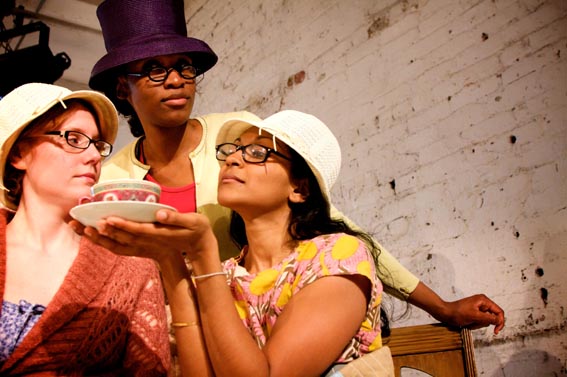 TMT's open application period for the third round will be open in the Fall of 2015. Check back for more details. In the meantime, check out our 2015 Fellows!
______________________
AVI AMON writes music and creates soundscapes for theater, film, and dance. With collaborator/pal, Julia Gytri, Avi wrote The White City (O'Neill 2014 National Music Theater Conference, Discovery New Musical Theater Festival at Ball State University, and finalist for the 2014 Jonathan Larson Grant), and Step on a Crack (featured in Prospect Theater's 7th Annual Music Theater Lab). The team is working on a new show, Salonika, which is a fusion of obscure fairy tales paralleled with the extermination of the Ladino-speaking Jewish community of Salonika, Greece. In addition to being an active performer in New York, Avi is a volunteer composer for the 52nd Street Project and an alumnus of the Graduate Musical Theater Writing Program at NYU's Tisch School of the Arts. He currently lives in Brooklyn where he tends to his immense plant collection and builds furniture for friends.
KAARON BRISCOE is a New Orleans native with an MFA from ART/MXAT/IATT at Harvard University. She has performed on international stages, in films, and national commercials. Some of her favorite roles include Columbia in Pocahontas and/or America (Little Lord), Athena in Ajax (ART), and 1st Visitor/1st Sidney in Largo Desolato (ART/MXAT/IATT). Kaaron is thrilled to be a 2015 fellow and wants to thank Target Margin for helping her move into her next phase as an artist. www.kaaron.com
TANISHA CHRISTIE is an interdisciplinary filmmaker, performer, singer and educator. She has performed, produced, directed and taught for many traditional and non-traditional theaters, performance spaces, community centers, schools, and universities in the U.S. and Panama. Her experimental shorts have been shown internationally and her first feature length documentary, Walk With Me (w/ Ellie Walton) is digitally released. Her current interactive doc-project Dry Eyes, Dry Mouth (w/ Anita Womack) is in production. She is a reoccurring subject in the Everyday People Project, a digital documentary project by JD Urban. She has a BFA Theatre (Arizona State University), an MA-Media Studies (The New School). A member of Actors' Equity, her work has been recognized by the DC Commission on the Arts and Humanities, the Puffin Foundation, the National Endowment for the Arts, and the Humanities Council of DC. Riding her bike to the beach is her favorite thing to do. www.tanishachristie.com
MORGAN GOULD is a writer/ director who, in 2012, founded the world-renowned award-winning gluten free theater company Morgan Gould & Friends. Their work has been featured at Madison Square Garden, Lincoln Center, the Met, and sadly, never at the Collapsible Hole. Since forming in 2012, their work (Noh infused soundscapes with influences drawn from biomechanics, viewpoints and Bunraku Puppetry) has been featured at Dixon Place, The Brooklyn Lyceum, HERE Arts Center, Ars Nova, CAP21, BAX, New Georges, The New Ohio and The Culture Project. Morgan has previously held staff positions at Lark Play Development Center, Cape Cod Theatre Project, and Young Jean Lee's Theater Company. Morgan is a New Georges affiliated artist, an alumnus of the Lincoln Center Director's Lab, The Civilians R + D Group, The BAX AIR and Space Grant Programs, and the Ensemble Studio Theatre and Playwrights Horizons Directing Residency Programs. Morgan has a B.A. in Directing from Fordham College at Lincoln Center and is currently in the Playwriting M.F.A. Program at Brooklyn College. Morgan is currently the Literary Manager at Playscripts, Inc., a theatrical licensing and publishing company. Upcoming in 2025: Morgan Gould & Friends Presents "Fat Like Me" (Manhattan Theatre Club).
PETER MILLS WEISS is a monologuist and performance artist. His work has been seen at Little Theatre at Dixon Place, CATCH Performance Series, the Incubator Arts Project, Fresh Ground Pepper, and the Silent Barn. Collaborators have included: Richard Foreman, John Jesurun, Mallory Catlett, and the Wallace Shawn/Andre Gregory Project. Peter, along with his performance group, GRANDMA, was a Short Form Artist at the Incubator Arts Project in 2011. They are currently in residence at LMCC as part of the 2014 – 2015 Workspace program and are working towards a full length to premiere in June 2015.
______________________
Interested in knowing what our 2014 Fellows have been up to? Check out our blog to find out more. Our 2014 Fellows are guest blogging all Fall.
______________________
About the Institute:
Our Institute is a place where Fellows challenge themselves and the form of theater, ask what theater can be, and fearlessly embrace surprising and unexpected answers. Potential Institute Fellows should be hungry to reinvent what they want to make happen in a theater.
Institute Fellows will read, see, discuss, and make, all through the lens of our core company principles:
DIFFERENCE: We strive to discover, to do something not known, to make it new. We really mean it and we really do it. We value form-breaking work and artistic originality above all.
QUESTIONING: There are no assumptions in the Institute and in our work. Do you know what a play/production is? We don't. Let's locate the assumptions and set them aside. Consider everything.
FAILURE: Our linking principle. Let's get an A or an F. Let's fail big and surprise ourselves in the process.
What will this Institute be? The truth is, we have no idea; the TMT Institute will evolve over time and will be tailored to the makeup of each year's group. The 2014 pilot year Fellows have been meeting, discussing, seeing, researching and are about to embark on end-of-year process projects. For the 2015 Institute, we do know some starting facts. We know it will involve study, practical work and reflection. This is not an Institute imparting the knowledge of one person or one technique: we are Against Mastery. We know it will require a yearlong commitment (see timeline below). And we know that it won't cost you a dime- in fact, you will receive a stipend of $1,000 for your commitment for the year.
What's the timeline? The deadline for applying will be in the Fall of 2015. We will then review applications and conduct interviews, with the aim of choosing our Fellows before the end of the year. In January or February 2016 we will hold a 1-2 week intensive session followed by sustained meetings through the Spring. In late Spring we will hold another weeklong intensive. Individual mentorship will occur throughout the Summer with a culminating something (panel? showing? party? we don't know!) in the Fall/Winter of 2016.
Who should apply? We are looking for 5 emerging artists who have demonstrated a serious commitment to making art and a shared interest in theater and our principles. Applicants should have substantial professional experience or an advanced degree. We want people who have arrived at a grasp of theater and the field and are prepared to throw it away. Applicants may emerge from any theatrical discipline (actors, designers, writers, directors, producers, stage managers, administrators, etc.) as long as they care about making. We will also happily accept applications from other artistic fields (music, visual art, literature, etc.) as long as the connection to theater is clearly articulated.