INSTITUTE FOR COLLABORATIVE THEATER MAKING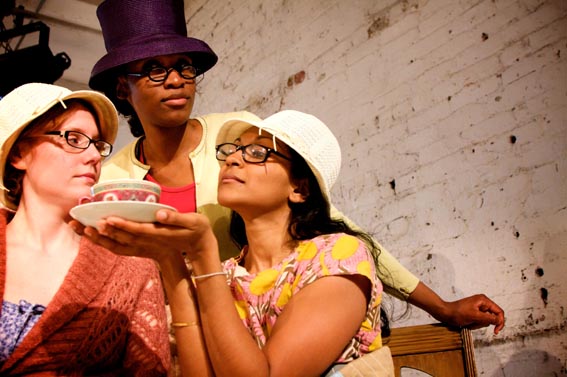 Please note that the application process for the 2014 Fellows closed in the Fall of 2013. Stay tuned for future rounds. We apologize for any inconvenience.
Announcing the 2014 Institute Fellows!
Claire Moodey is a Brooklyn based theater artist. Original works include (the invisible draft), Spectral Findings, and The Hungry Ghosts. She is currently developing a digital identity piece as TRAGEDY (Maxwell Cramer, Milo Cramer, Claire Moodey, and Ariel Stess). Other credits include: Take Me Home, Associate Director (Meghan Finn, dir.); a (micro) history of world economics danced (Pascal Rambert, dir.); Erin Courtney's The Service Road, puppeteer and live foley (Finn, dir.); Penny Arcade's Lower East Side Biography Project: Richard Foreman, video editor; POZHAR with TMT's Russian Futurist Lab.

Kyoung H. Park is Artistic Director of Pacific Beat Collective and the first Korean playwright from Latin America to be produced and published in the United States. He is author of Sex and Hunger, disOriented, Walkabout Yeolha, TALA, and many short plays including Mina, which is published in Seven Contemporary Plays from the Korean Diaspora in the Americas. He is a 2010 UNESCO-Aschberg Laureate, recipient of an Edward Albee, Global Arts Village, and Theater of the Oppressed fellowships and grants from the Arvon and GK foundations. Kyoung is a member of the Ma-Yi Writer's Lab, Soho Theater's Hub and Youngblood alum. BFA: Dramatic Writing (NYU); MA: International Politics (KHU); MFA: Playwriting (Columbia).

Cara Scarmack is a theater-maker and musician. As a theater-maker, she has worked with the ensemble The Roadsters and is currently making theater with longtime collaborator Priscilla Holbrook. She has directed her texts WHAT HAPPENED IN OHIO; OHIO, REVISITED and BETTER NOT TOUCH THAT. Her to-be-made plays include IN THE SHADOW OF A TRUCK; BEFORE YOU GET TOO FAR AFIELD and NIMBUSCLUD. An avid admirer of Odin Teatret, Scarmack has witnessed and participated in their march. She is currently a student of bluegrass aficionado Michael Daves and is pursuing her MFA in Playwriting in Mac Wellman's program at Brooklyn College.

Sarah Cameron Sunde directs theater and makes interdisciplinary live art. She leads Lydian Junction, a cohort of five artist practitioners from different disciplines, develops new work, and is known for her work as Jon Fosse's American-English director/translator (five U.S. debuts, texts published by PAJ). Other world premieres at 3LD, Guthrie Studio, 59E59, Rattlestick, EFA Project Space and New Georges, where she is Deputy Artistic Director. Sunde is currently developing large-scale versions of her durational performance, 36.5 / PHASES OF THE MOON, and BORN FOR NOTHING with Lydian Junction, which will be developed at the Watermill Center in 2014. SarahCameronSunde.com + LydianJunction.com

aricoco (Ari Tabei) was born and raised in Tokyo, receiving her undergraduate education at Sophia University ( BA '97.) Traveling back and forth between Tokyo and the US, aricoco attended the Post-baccalaureate Program in Studio Art at Brandeis University in 2001 and received her MFA from the University of Connecticut in sculpture and video performance art in May 2007. She was awarded A.I.R. Gallery Fellowship for 2008/09. She has participated in several artists in residency programs including: chashama, LMCC Swing Space, Smack Mellon Studio Program, Sculpture Space, Blue Sky Project, AAI Studio Program, and Museum of Art and Design Open Studios.

About the Institute
TMT is launching the pilot program of its Institute for Collaborative Theater Making. Our Institute will be a place where Fellows challenge themselves and the form of theater, ask what theater can be, and fearlessly embrace surprising and unexpected answers. Potential Institute Fellows should be hungry to reinvent what they want to make happen in a theater.
Institute Fellows will read, see, discuss, and make, all through the lens of our core company principles:

DIFFERENCE: We strive to discover, to do something not known, to make it new. We really do it and we really mean it. We play with the notions of Mystery, Entertainment and Extremity, encouraging cross-disciplinary work and artistic originality.
QUESTIONING: There are no assumptions in the Institute and in our work. Do you know what a play/production is? We don't. Let's locate the assumptions and set them aside. Consider everything.
FAILURE: Our linking principle. Let's get an A or an F. Let's fail big and surprise ourselves in the process.
What will this Institute be?
This pilot year will only begin to answer this question. The truth is, we have no idea; the TMT Institute will evolve over time. But we do know some starting facts. We know it will involve study, practical work and reflection. This is not an Institute imparting the knowledge of one person or one technique: we are Against Mastery. We know we will involve the talents of Associated Artists as well as outside artists/teachers/collaborators. We know it will require a yearlong commitment (see timeline below). And we know that it won't cost Fellows a dime- in fact, Fellows will receive a stipend of $1,000 for their commitment for the year.
What's the timeline?
The application process is currently closed. Check back later for the next round of applications in Summer/Fall 2014.
Please note the Institute is not an incubator for existing work. It's not a showcase. It's not a Masters' thesis show. It's for those who want to meet, discuss, play, fail and try to figure out what it all is. You decide the it.
Subsidized studio space provided by the A.R.T./New York Creative Space Grant, supported by the Andrew W. Mellon Foundation.