2018 TMT Institute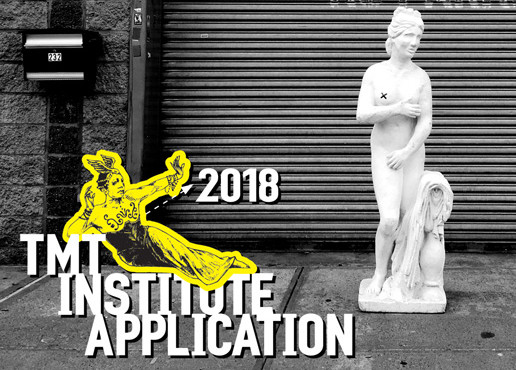 WE ARE NO LONGER ACCEPTING APPLICATIONS TO THE 2018 TMT INSTITUTE.
WHAT IS THE INSTITUTE?
A year-long fellowship (January – December) that provides five diverse artists space, support and a $1,000 stipend to challenge themselves and their art-making practice. There is no curriculum or "teaching" structure. There is no final result or project. The core goal is rigorously to question our own assumptions about what the theater is, what it could be, and what we would like it to be.
Applicants may emerge from any theatrical discipline (actors, designers, writers, directors, producers, stage managers, administrators, etc.). We will also accept applications from other artistic fields (music, visual art, literature, etc.) as long as the connection to theater / performance is clearly articulated. Applicants should have substantial professional experience and/or an advanced degree and are now looking to extend, disrupt, and transform it. Please note: we only accept applications from individual artists. Applications from artist collectives / collaborators cannot be considered at this time.
The Institute is NOT a project development opportunity, nor is it a professional development service. There is no curriculum or "teaching" structure. There is no final result or project. The Institute values form-breaking work, artistic originality and process over production. The core goal is rigorously to question our own assumptions about what the theater is, what it could be, and what we would like it to be.
**********
Our 2017 TMT Institute Fellows:
CB Goodman creates theatre and puppetry that incorporates disparate source materials and object manipulation, blurring the lines between truth, lies, and theatricality. Her work has been presented at venues in Austin, New Orleans and NYC; and she has worked with such artists as Dan Hurlin, Tom Lee, Lake Simons, and Koryu Nishikawa V. She also collaborates with others as a director and puppet designer, makes props, and teaches theatre making and design. Her next project, How To Kill An Elephant, is currently in development as an artist-in-residence at Dixon Place.
Ayun Halliday is a performer, playwright, and author of seven books, including "No Touch Monkey!: And Other Travel Lessons Learned Too Late" and the graphic novel, "Peanut." As a member of the Neo-Futurists from 1989-1998, she wrote, directed and performed in over 500 short plays and several full-length solo performances. Recent plays include The Mermaid's Legs, Fawnbook and Zamboni Godot, a post-menopausal spin on Beckett's celebrated, prostate-centric work. Co-founder of Theater of the Apes. Chief Primatologist of The East Village Inky zine. Homeschooler. Hoos-Yorker.
Brian Lawlor is a composer, multi-instrumentalist, performer, and educator residing in Jersey City. A fervent collaborator, he is the music director for Seattle theater group Saint Genet — conducting, composing, and performing for/with a variety of ensembles (from chamber orchestra to synth trio). Recent engagements include On the Boards, Museum of Contemporary Canadian Art, DonauFestival, New Island Festival, and Works & Process at the Guggenheim. Lawlor earned a BM from Cornish College of the Arts, an MM from SUNY Purchase, and studied at the Koninklijk Conservatorium in Den Haag. In 2005, he was named Keogh Dwyer Correctional Facility's "most promising inmate."
Aaron Minerbrook is a New York based artist. His work can be seen in music videos like the one he produced and directed in 2013 for DJ Trax, and in the post-production work he does for companies like Coty. He also creates label art and video designs for the audio-visual collective Detuned Transmissions. In the theater, Aaron works as a Technical Director and Production Manager, and has worked on projects such as Shadowland by John Jesurun at LaMama, and RoosevElvis by the TEAM. As a Projection Designer, Aaron has contributed to projects such as Karaoke Bacchae at the ICE Factory Festival, Redshift by Yiannis Mavritsakis at the Wild Project, and Hôtel Méditerranée, an adaptation of Matisse's Self Portrait by Chuck Mee.
Anthony Wills, Jr is Artistic Director of Artistic Pride Productions and Our Space. An artist of many genres; from directing and producing to performing and visual arts, he's presented work at Art in Odd Spaces, Milwaukee Rep, The New Museum, Target Margin, Steppenwolf, Utah Shakes, Performa and many more. Recent credits include Rob in Ace the Case starring Susan Sarandon, Richard in Casanova Was a Woman. He's collaborated with such greats as William Pope L., Holly Hughes and Barbara T. Smith. He is currently the Host/MC of Jersey City Theater Center's The BOX curated by Dan Piericcini.
**********
Institute Alum: Avi Amon, Eliza Bent, Kaaron Briscoe, Stephan Cedars, Tanisha Christie, Morgan Gould, Claire Moodey, Kyoung Park, Barbara Samuels, Cara Scarmack, Sarah Cameron Sunde, Ari Tabei, Sugar Vendil, Peter Mills Weiss, and Dennis Yueh-Yeh Li.