GRAND FESTIVE OPENING | NOV 9 – 11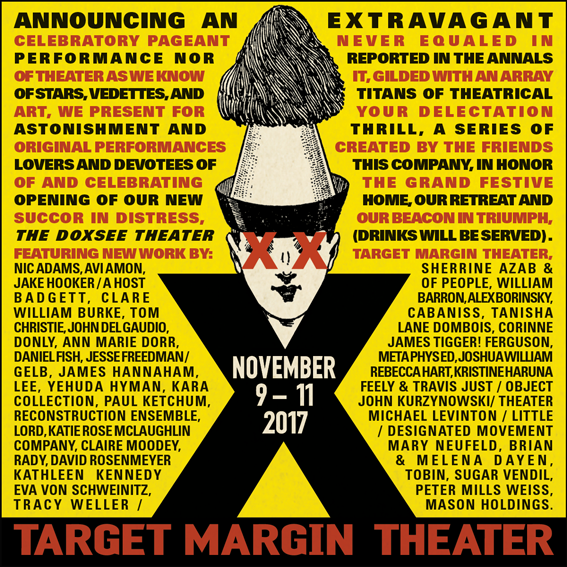 Join us for a three-day performance + party celebration of our new space THE DOXSEE in Sunset Park, Brooklyn. Featuring new work by Target Margin Theater and over 40 Theater/Performance Artists. PLEASE JOIN US!
THE DOXSEE @ Target Margin Theater
232 52nd Street, Brooklyn, NY 11220
Tickets: $20 each day
Thursday 11/9
Avi Amon, William Badgett, Tom Cabaniss, Ann Marie Dorr, Jesse Freedman / Meta Phys Ed, James Hannaham, Kristine Haruna Lee, Michael Levinton / Little Lord, Katie Rose McLaughlin / Designated Movement Company, Mary Neufeld, and Kathleen Kennedy Tobin.
Friday 11/10
Nic Adams, Clare Barron, Tanisha Christie, John Del Gaudio, Lane Dombois, James Tigger! Ferguson, Rebecca Hart, Sherrine Azab & Jake Hooker / A Host of People, Yehuda Hyman, Claire Moodey, Shannon Sindelar, and Peter Mills Weiss.
Saturday 11/11
Alex Borinsky, William Burke, Corinne Donly, Daniel Fish, Joshua William Gelb, Kara Feely & Travis Just / Object Collection, Paul Ketchum, John Kurzynowski / Theater Reconstruction Ensemble, Brian Rady, David Rosenmeyer & Melena Dayen, Sugar Vendil, Eva von Schweinitz and Tracy Weller / Mason Holdings.
Plus, special bonus performances each night by Moe Yousuf, Lu Liu, and David Herskovits!