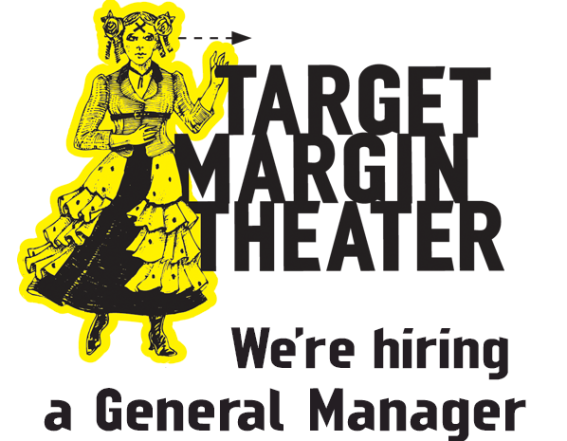 GENERAL MANAGER POSITION
APPLY NOW!
Our vibrant and growing company seeks a General Manager to nurture the next phase of our growth. Over 26 years, Target Margin Theater (TMT) has become known as a leader in adventurous theatrical experimentation in downtown New York City. We recently moved into a new home, a 7,400 square-foot raw industrial space in Sunset Park, Brooklyn, and have begun planning our next phase of production, artistic nurturing, and outreach. Real experience in arts administration is essential, whether in the workplace or in a training program. An adventurous artistic sensibility is also important.
The General Manager will work under the Artistic Director and Artistic Producer and will have responsibility for all phases of the company's administration: Company Management, Facility Management, Fiscal Management, and Production Management. They will supervise subordinate staff in these areas, but must also be willing to roll up their sleeves and get the job done as necessary. Our General Manager will also have a special role in nurturing relationships in our new neighborhood, Sunset Park.
This is a full time position with some nights / weekends required. Salary is $40,000 a year, plus benefits. Target Margin is especially committed to diversity in the workplace and we strongly encourage applicants of color, and of different ages and abilities.
Target Margin Theater is an OBIE Award-winning company founded in 1991 by Artistic Director David Herskovits. We continuously strive to expand the concept of what can take place in a theater, creating aggressively reimagined versions of classic texts and new plays inspired by existing sources. Difference is the generative principle of everything we do at TMT, from the work we develop to our office structure. From our inception we have sought 'difference' in our company makeup, and our practice of age, gender, and racially diverse casting.
Responsibilities:
•Facilities and operations management of office and rehearsal / performance spaces, including managing / hiring of production personnel, front of house staff, and volunteers.
•Fiscal management including day-to-day record keeping, budgeting, reporting, and box office / bank reconciliations. Also, works with our bookkeeper and auditor for yearly audit, monthly / quarterly / yearly tax filings, weekly payroll, and more.
•Oversees HR including, employee on-boarding, insurance and compliance related issues.
•Supports Artistic Producer (as necessary) in areas of development, marketing, and community engagement. Also, assists in coordination of fundraising appeals, annual gala, and other special events.
•General administrative duties include master calendar management, updating donor database, scheduling of staff / production / program meetings, taking notes, data and fielding general inquiries about the space and the organization.
Experience:
•Minimum Bachelor's degree and two years of experience working professionally in an arts-related field.
•Bilingual (English and Spanish / Mandarin / Cantonese) preferred.
•Proficient in Quickbooks & Excel
•Experience using Ovationtix or comparable ticketing / CRM client
•Knowledge of HTML, Vertical Response, and Photoshop / Illustrator, a plus
•MUST have a sense of humor, love for good food and wine, and willingly acknowledge the absurdity of it all.
How to Apply
Applicants must submit a cover letter, resume, and three professional references to moe@targetmargin.org
*********
INTERNSHIPS
APPLY NOW!
Our internships provide rigorous hands-on experience in theater production, management, marketing / development and artistic creation. It will be work but also fun but also work. You'll learn everything from arts management to crisis management and have the opportunity to participate in a production as its realized, rearranged, and reimagined from the page to the stage. Must be a self-starter and problem-solver, and must be able to think quickly on your feet.
Our office is small and we consider this position an integral part of our success. Being a small company with limited resources, we offer a travel reimbursement, priceless experience, tickets to all of our shows and an occasional snack as compensation for this position. Academic credit is also available when applicable. We're looking for someone in each position below to join 3 – 4 days a week for approximately 20 hours.
Send a cover letter & resume to moe@targetmargin.org. Please include in the subject line which internship you are applying for.
Internship descriptions:
Artistic Intern
The Artistic Intern will work intimately with the Artistic Director and Artistic Producers throughout the fall season to assist in the coordination of current / future season programming, workshops and special events; organize correspondence (telephone, email, etc); schedule meetings and manage the Artistic Director's calendar; and assist in dramaturgical / curatorial research, in addition to other general administrative tasks. MUST HAVE strong writing skills and proficiency in Outlook / MS Office. Previous theater admin experience preferred but not required.
Marketing / Development Intern
The Marketing / Development Intern will work intimately with the Artistic Producers throughout the fall season to create social media content, schedule weekly e-blasts, and update our website / create blog content; perform audience outreach including the distribution of marketing materials (such as postcards and season brochures); create / administer audience surveys; manage donations; perform prospective funder research, update our development calendar and draft grant proposals / reports, in addition to other general administrative tasks. MUST HAVE strong writing skills, an active presence on social media (Facebook, Instagram, and Twitter), proficiency in Outlook / MS Office, and experience working with WordPress, HTML and Photoshop. Previous marketing / development experience preferred but not required.
Production Intern
The Production Intern will work intimately with the Artistic Producers and Production Manager during the fall season to assist in organizing production schedules / budgets in coordination with the Production Manager, assist in load in / load out, assist the PSM / ASM throughout production and perform general run crew duties as needed, in addition to other general administrative tasks. MUST HAVE proficiency in Outlook / MS Office. Previous theater production experience preferred but not required.