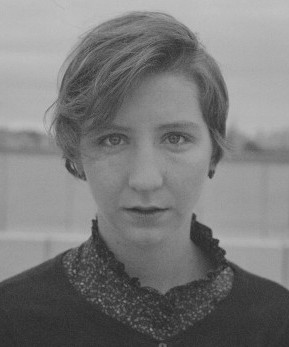 Claire Moodey (Lead Artist) is a director, performer, playwright, and designer living in Brooklyn. With Target Margin Theater: Drunken With What (Assistant Director), I Made a Mistake (Performer), Compositions…Master-Pieces…Identity (Stage Manager), Pozhar! (Performer). In 2014 she was a fellow in the TMT Institute for Collaborative Theater Making. As a director/playwright, she has developed her own works including femme pathos (co-director), Spectral Findings (co-director), and the invisible draft. Other performance credits include Last Night at the Palladium (Brooklyn Gypsies/3LD), Long Christmas Dinner (Lincoln Center), Erin Courtney's The Service Road (City Tech CUNY's Vorhees Theater) and most recently It's Lonely at the Top, a Cadillac Play by Megan Murtha.
TMT: You are one of the lead artists for Marco Millions, our collaboration with the Center for the Humanities. A big part of this project has been the people — your cast are all students, alumni or professors in the CUNY system. How has it been working with people outside the realm of the so-called "professional" theatre world?
CM: Broadly, it has been fantastic! Just about all the folks who expressed interest in the project have had at least some theater experience within the CUNY system, but not very many have had professional experience and the approach Bess and I have been using to make the work is definitely a new experience. It is really exciting to be in a rehearsal process where our enthusiasm around each collaborator's voice and particular idiosyncrasies is at the fore. And part of the joy has been seeing the cast catch onto our mode of work, so they are less and less surprised when we say, "Great! That little scuttle you did to get into the right place is fanatastic-it is in the show! Write it down and don't forget it." The whole concept of work is about translation, so it is also only fitting that Bess and I would be translating our professional experiences into this new context.
TMT: Claire, you were in the inaugural TMT Institute and have been involved in Target Margin projects since then. How has being a Lead Artist in the Unseen O'Neill Lab been a unique experience for you? What's it been like to work with Bess?
CM: Co-directing material that I have not written is unique for me, and very exciting. One of the things that we discussed and played with a lot in the Institute was what collaboration looks like, how sharing power and vision works in the creative process, and how each fellow's desires as an artist could shift in any direction/plane in relationship to power, process, medium, etc. Those questions are always hot for me, both as they apply artistically and as they apply in a larger political sense. How communities function collaboratively and distribute power is a question that feels especially important at this time, and in some ways I think that working in theater and performance is of interest because it strikes me as skill building for application in the world.
Working with Bess has been thrilling. Going into the Lab, there were many questions for me about what the process would be like: Who was this PhD candidate I would be working with, would we get along? Who would we find to work with us from CUNY? If we are approaching the work as a translation "writ large", in what ways will I need to translate my ideas in order to effectively communicate and inspire the group? Will we be able to maintain a clear vision while staying radically open to the group we bring together?
We didn't know each other as people or artists before collaborating. Happily, we discovered that we shared many aesthetic sensibilities, were able to communicate easily and could share labor and ideas almost effortlessly. This is the first time I have collaborated so intensely on a project with someone whom I didn't know at all ahead of time and that is tremendously exciting. It has also been very rewarding to work together in the rehearsal room and learn from each other-we have different ways of directing and working through material and every rehearsal I find myself more excited to be in the room. Bess is incredibly intelligent and quick on her feet-able to translate my ideas to the cast whenever language escapes me and is quickly able to harness what is powerful about a performance and offer feedback that furthers each moment. We have also had the joy of too much material, too many good ideas, and working together, we are far more efficiently able to make the strongest decisions. Somehow working together seems to be like a "power up booster star" in Mario Brothers-we become faster, more confident, and better at shaping the work of our fabulous cast.
TMT: In Marco Millions, O'Neill is addressing issues of religion and connecting between different cultures that are still so relevant to our lives today. How does this nearly century-old play speak to our modern audiences?
CM: Geez, how is it not relevant? O'Neill was trying his hand at satire, and ostensibly was taking on American capitalism with his account of Marco Polo in Marco Millions. And it isn't just about religion and culture, the play tackles encountering differences via ideas about love and the relationship to emotions, economic policy, and slavery – asking in myriad ways, "What do we value?" Big business in America is still just as problematic as it was to O'Neill in the 1920s, and throughout the early part of the rehearsal process, Bess and I spoke about the obvious and ever clearer relationship between business, political power and war in the US today. The connections that O'Neill makes between Marco Polo and 1920s business were laid even more bare by our performers who translated O'Neill's words to their contemporary equivalents: weapons of mass destruction, selfies, corporate culture, etc. Big questions facing the US right now center around race, religion, and gender. All of these issues are pitted against one another in O'Neill's play. What has been really fascinating is that O'Neill's own misogyny has come up a lot in our rehearsal process and very often the women in the play have come into the room in bigger and bolder ways, with things to say about all of the issues at hand, in the voices and bodies of our cast.
As much as we all take issue with O'Neill for his own shortcomings, we have all also appreciated his wit and intelligence as a playwright in this process. One of the things that makes O'Neill's setting of this problem in the world of Kublai Khan and Marco Polo is that Kublai Khan, while still an imperialist, was the first ruler conquering territory who valued cultural differences and adopted some of the ways of the places he conquered and in doing so is credited with the unification of China. Marco Polo and the colonialist imperialism and big business introduced by the West, provide a stark contrast to this. I wish this play were less relevant today than it is!
TMT: Marco Polo traveled to faraway places like India and China, and those travels are a big part of the play. Where have you traveled that had an impact on you?
CM: In order of experience:
– London is where I discovered I love fireworks and spectacle and immersive theater.
– Vermont is where I learned about composting toilets and the individual experience inside of a larger moving performance.
– Scotland is where I really viscerally digested class issues.
– Berlin is where I learned about what I find aesthetically most thrilling in theater. I leaned into my love for watching things without full linguistic comprehension.
– France is where I began to think of myself as a generative artist as well as an actor. It is also where I learned to love olives, oysters, nettles, campers, yurts, chi qong/tai-chi, understood the difference in land and water in the things that grow in a place.
– Jordan and Egypt are where I learned that archaeology and science are really truly storytelling, which I had suspected for some time. I also gained a deeper understanding of my concerns about Disney-fication and tourism. I also understood checkpoints and occupation more.
TMT: What happens now? Where are you going from here?
CM: I am very excited to continue working with TMT and David on Mourning Becomes Electra in 2017. I am also editing a script I've been working on about some teenagers in my hometown, and workshopping some ideas for another play of mine which will likely go up in January 2018. I have had a particularly busy fall and am planning to take some of the winter months to focus on how to open my work up to communities outside of NYC in the hopes of instigating more political dialogue. One of the things that has been heavy on my mind, especially in the last two weeks, is how to bridge the gaps in thinking and speaking that have contributed to the political divide in this country. I am very nervous about what will happen over the next four years and am looking forward to having a bit of time to think seriously about how I can best engage as a citizen and as an artist.
********
Click HERE to buy tickets to Eugene O'Neill's MARCO MILLIONS by Lead Artists Claire Moodey & Bess Rowen.