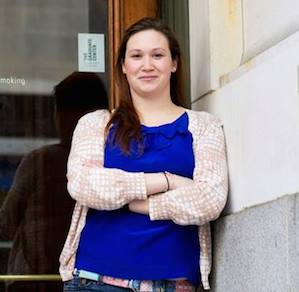 Bess Rowen (Lead Artist) is a Ph.D. candidate and Dissertation Fellow in the Theatre Program at The Graduate Center, CUNY, and a lecturer at Purchase College. She has directed, stage managed, and even done a little playwriting. Her article "Completing the Sentence with a Gesture: The Deconstructed Dialogue-Stage Direction Binary in the Work of Tennessee Williams" can be found in the 2016 issue of the Tennessee Williams Annual Review. Bess is currently an Associate Producer with The Fulcrum Theater and has written scholarly reviews for publications such as Women & Performance: A Journal of Feminist Theory and Theatre Journal, and is an Arts & Culture blogger for The Huffington Post.
TMT: You are one of the lead artists for Marco Millions, our collaboration with the Center for the Humanities. A big part of this project has been the people — your cast are all students, alumni or professors in the CUNY system. How has it been working with people outside the realm of the so-called "professional" theatre world?
BR: One of the most exciting things about this project is the way in which it spans the space between the more academic theatre space and the professional theatre world. Our cast has brought such fantastic energy into the space, and the ability to support that with working theatre professionals on the production and design team has made the project really fun to do. This is a rather unorthodox project, even for the seasoned theatre folks, so everyone has had to stretch outside of their comfort zone a bit, I think, and that's been an important part of the truly collaborative nature of this project for me. The thing I love most about theatre people is how willing they are to take ideas and run with them, and that's been true of all involved, from performers to designers, CUNY-affiliated and not. That's where we all come together.
TMT: Bess, you're also a doctoral candidate at CUNY as you're working on this project. How have the two parts of your life influenced each other? What's the collaboration with Claire been like?
BR: It's funny, the whole time I was training as an actor, I always resisted directing, until I became an assistant teacher to Pam Pepper at Lehigh University. It was at that moment that I realized directing and teaching have a lot in common in my mind: you have to have a plan, but also be prepared to allow for the inspiration and interpretation of the other people in the room. It's fun to know all of the background and then allow that knowledge to work as a springboard for creativity. I think of being an academic, director, and reviewer like that as well. So, in that sense, I see them as logical extensions of each other! I've studied a lot of O'Neill, and I write about him, so we've certainly discussed parts of that in the room. I was drawn to this play because of the scholarly conversation I see about his life and work, and the things that are often left out of that narrative. Claire was too. And from that moment on, Claire has been the absolute best partner in crime I could've asked for during this wild journey! We balance each other out in rehearsal and meetings, and we now find ourselves being able to read each others artistic minds in a very exciting way, despite our very different backgrounds and training. I'm incredibly proud of the fact that I think we managed to create a rehearsal space into which our actors could insert their own interpretations of Marco Millions without us throwing too much of our own ideas onto them. Yet, our ideas ended up in the mix too! So, it's really been an excellent collaboration all around, and it wouldn't ever have been possible without Claire! She's just the best.
TMT: In Marco Millions, O'Neill is addressing issues of religion and connecting between different cultures that are still so relevant to our lives today. How does this nearly century-old play speak to our modern audiences?
BR: One of the first things Claire and I talked about in reference to this play was the absurd way that O'Neill set up the prologue like a joke about religion: a Christian, a Muslim, and a Magician walk into the desert. Like a great number of O'Neill's jokes, this one actually isn't that funny. Regardless, it's obvious that our different cultures and religions are still cause for people to laugh, cry, talk, and fight about today, but none of our performers were particularly drawn to the religious themes of the play. They were far more interested in the relationships between Marco and those around him: the fact that Marco starts as a bit of a poet, but then loses his poetry as he becomes obsessed with money, the affinity the great Kublai Khan shows for this naively prideful young man, who entertains him from the first moments of the play. The play makes a (successful) joke about how you can find the same kinds of people in any country and in any language; this is one of the first lessons young Marco learns, and it's a valuable point about all of humanity. It's Marco's loss of humanity, his ever-weakening "soul," that has made the biggest impression on the production, I think. But by showing us a younger Marco, O'Neill reveals that there could have been another path taken, one that wasn't obsessed with greed at the expense of people and relationships. This salient point is highlighted even more as our diverse performers step into Marco's shoes with pieces of their own languages and interpretations, which bring humanity into the production in a different way than O'Neill has written. I think contemporary audiences can relate to this, and also will enjoy the celebration of the different cultures and languages at play in the production, which is a microcosm of almost any CUNY classroom in that sense.
TMT: Marco Polo traveled to faraway places like India and China, and those travels are a big part of the play. Where have you traveled that had an impact on you?
BR: I went to Japan for a short time when I was in high school, and it was the first time I'd ever been to a place where I could not read or speak the native language. It was humbling and very thrilling at the same time. It was a good lesson in how vast the world is, but also that there are some things that can be communicated between well-meaning people without verbal language. It was the first time I had ever experienced culture shock, which was really valuable. I'll never forget that trip, and I hope to make it back one day to see more. I have also been to Ireland many times, and that is the only country other than the U.S. of which I have a working knowledge. I love it there, and I try to go back as often as I can. Ireland feels like home in a way I can't really explain. I think it's too simple to say that I feel a cultural connection to my roots there, but also maybe that's exactly what's happening. I've written about an Irish feminist protester, Hanna Sheehy-Skeffington, who caused a theatre riot in 1926, and the last time I was in Dublin, I visited her grave. In all my research, I had never noticed that she and I have the same birthday. It was eerie, but also somehow felt correct. So, that's the opposite experience for me: being far away from home and still feeling at home.
TMT: What happens now? Where are you going from here?
BR: I'm going directly back to my desk to finish writing my dissertation on stage directions! Okay, perhaps with a few detours, but that is my weighty next task. I'm also going to continue teaching at Purchase College next semester with the course "Women in Performance," which focuses on feminist theory and female playwrights, directors, and choreographers. I also have a couple of forthcoming publications in the works.
********
Click HERE to buy tickets to Eugene O'Neill's MARCO MILLIONS by Lead Artists Claire Moodey & Bess Rowen.