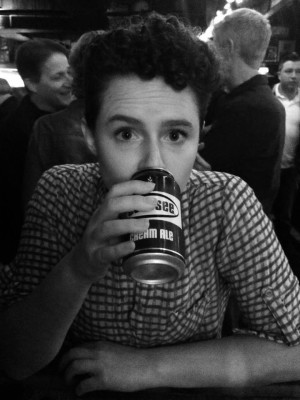 Ann Marie Dorr (Lead Artist) often works on big-little shows with adventurous and ambitious ideas in downtown and Brooklyn spaces including The Bushwick Starr, Abrons Arts Center, The Brick, The New Ohio, and JACK. Previously with Target Margin Theater: Drunken With What (Abrons Arts Center), Reread Another (The Brick), The Gertrude Stein Labs (The Bushwick Starr and The Connelly Theater) including Compositions…Masterpieces…Identity by David Greenspan, and Uriel Acosta: I Want That Man! (The Chocolate Factory) Upcoming: continued exploration of Crave Blue by Sarah Loucks in Austin, TX. Associate Artist of Target Margin Theater.
TMT: You're an Associated Artist with Target Margin but this is your first time as a Lead Artist. How is the work as a Lead Artist different from what you've done with Target Margin in the past?
AMD: Hmmmm. Deep question.
It's a shift in focus and priorities. While holding onto some things I've picked up over the years of working with TMT.
Logistics of other TMT artists has been my wheelhouse for the past 3ish seasons. I feel as a Lead Artist you are still taking on the logistics of your own work but how it concerns your own deeply personal artistic choices. By leading a Lab I get to have conviction about my own choices and how I serve them by working through this mammoth O'Neill text with the actors and by digging deep on my questions with the designers.
TMT: You mostly work as a production manager on your other projects. How has your technical experience played a role in your work as a Lead Artist?
AMD: I feel meh about this question.
TMT: I respect that response. Let's switch directions. I've heard there might be some food involved in your production of Beyond the Horizon. What is the best meal to go with some O'Neill plays?
AMD: Hmmm. I mean whiskey always pairs with O'Neill. That's only a meal for certain kinds of characters though. I think that was fully explored with the Iceman Labs though…
With Beyond The Horizon though we're going to break some bread and eat some beans. The basics.
Really adding food to the event is a two-fold thing 1) It's my maybe not so secret passion and stress relief habit. 2) We did a reading of this play and I made dinner for everyone in the cast/TMT crew and thought well you know that was enjoyable and how does that connect to this play for me? I went down a little rabbit hole, went home to Maine, meditated on it and all of that.
So. Bean Suppah.
(google it)
TMT: According to the New England bean supper expert website saveur.com, a bean supper includes a full ham, frankfurters, and apple pie with ice cream. My question for you is-just how full will the audience be when they leave your show?
AMD: Well, first of all it's bean suppah. Important detail as indicated in the previous question.
Hopefully mostly full of O'Neill? But not too full. There is much more Lab to be had after my show!
TMT: Got it. Suppah. Will never, ever forget that. Soooo… what's some things coming up you're working on we can look out for?
AMD: I'll be kicking around The Bushwick Starr this winter with some Target Margin frequent collaborators working on Kate Benson's [PORTO] and Abrons Arts Center with Julia Jarcho's new play The Terrifying. I have an ongoing collaboration with my friend Sarah Loucks in Austin, TX on her new play Crave Blue about a mermaid show in West Texas, which we are hoping to workshop both here in NYC and in Austin this spring/summer.
********
Click HERE to buy tickets to Eugene O'Neill's BEYOND THE HORIZON by Lead Artist Ann Marie Dorr.