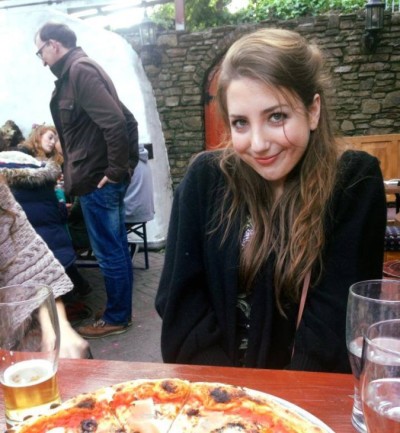 As my summer internship with Target Margin Theater comes to a close, I wanted to let you know a little about myself and the lovely summer I have just experienced. My name is Emma Peretz, and while you may call me Emma, everyone around here knows me as "Judy." Why? That is a story for another time.
I am a rising junior at Muhlenberg College as a double major in Theater (concentration in Acting) and Business (Arts Administration). My greatest joy comes in discovering the unexpected connections between theater and other truths in life that at first glance might not be noticed on the stage. Thankfully, Muhlenberg is a small liberal arts college that thrives on the discovery of depth within the theater, and when I read TMT's mission statement, the first word that came to mind was "bless" and I knew it would be a perfect summer match for me. I would like to get more specific in what I want to achieve as an artist, but for right now I can only say that I'm still in "discovery mode." Last summer I traveled throughout Ireland for a month developing my theatrical skills through the Viewpoints technique under the guidance of Muhlenberg professor, Matthew Moore. During the year I was a part of the Blackbox production of Samuel Beckett's Not I/Rockaby as Mouth as part of Muhlenberg's spring productions that is designed to support the work of all student produced work. I am also currently a member of one of the college's oldest performance ensembles, An Artist Collective (better known as "ArtCo"). This past semester we presented "Night Light: An Immersive Surreality," a commentary on happiness and its many connotations from the perspective of the subconscious dream-state…another stepping stone on my path of artistic discovery. Now it's time to gear up for a semester abroad in Arezzo, Italy, where I will study at the Academia Dell'Arte learning Commedia, physical theater, masking, and clowning.
As my first internship EVER, I am so happy that it was with TMT! Since the exciting beginning of the season (both weather and theater-wise) to the "dog days" of summer, Moe, Sarah, and David have instilled in me the building blocks of what it means to be independent, forward thinking, and detail orientated. As a marketing intern, I was given the opportunity to document our ICEMAN Lab for our Eugene O'Neill season. Little did I know that I would experience (and surprisingly understand) the text of O'Neill and its relevance to today through media, music, movement, and puppets! This is what I LOVE about Target Margin. Boomerang, Layout, Instagram, you name it…they were new filters to experience these various art forms and to share with the arts community. I've never seen social media in that sense, but through actually experiencing its applicability in the real world, I was able to appreciate the power and potential of these art forms.
As a first timer living and working in New York City, it has been an unforgettable experience. Starting off with some sun salutations on the roof of my Bushwick apartment, then a wonderful morning coffee (best brew) at the local all vegan (no, I'm not vegan) café, "Brooklyn Whiskers," then off to the Target Margin office for a full day of preparing possible Instagram posts, decorating our yearly calendar, and ordering from Black Iris (never forget the Za'atar!). Writing and sketching daily, biking on my lovely janky blue bike (circa 1970) around Brooklyn, going to Candlelight Lunar Yoga with live music at your friendly neighborhood Daya Yoga Studio, and working part-time as a hostess at Eataly, rounded out an extraordinary Summer of Discover for me. I am eternally grateful to the Target Margin family for solidifying my foundation and for being a springboard into a full range of theater experiences.
Ciao amici, Emma "Judy" Peretz