2018 WINTER / SPRING ARTIST RESIDENCIES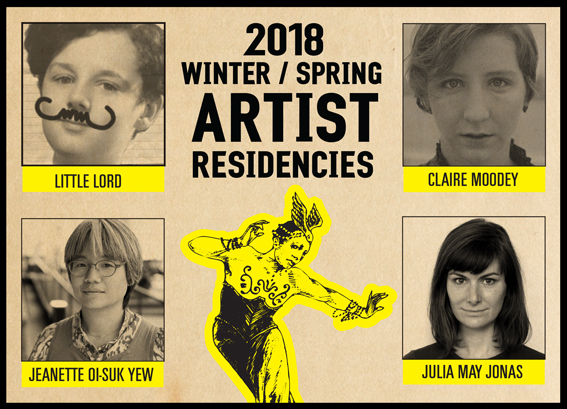 The Artist Residency Program provides established, mid-career and emerging artists dedicated rehearsal and developmental space. Target Margin theater supports artists at all stages of their careers, and now their new home allows them to build that dimension of their work in an exciting way. Each residency is shaped to meet the specific needs of each artist and will include a work-in-progress presentation and/or open-rehearsal free to the public.
The 2018 Winter / Spring Artists-in-Residence are Julia May Jonas, Little Lord, Claire Moodey and Jeanette Oi-Suk Yew.
JULIA MAY JONAS
YOUR OWN PERSONAL EXEGESIS
Your Own Personal Exegesis is a memory play presented as a church service. Exegesis: the literary or critical interpretation of a text, particularly scripture. Inspired by the Frescoes of Giotto and Widor's organ cantatas, liturgical plays and boring sermons, the play looks at the burgeoning of adolescent consciousness as it meets the ecstatic eroticism of early religious experience.
Julia May Jonas: Michigan Murders with Meghan Finn (New Works Initiative at Montclair State University). Also: Emily Climbs (Machine Méchant), Raise Your Voice in Medieval Counterpoint, Evelyn, For Artists Only & All Long True American Stories (a 5-play-cycle in development). Her work has been presented/developed at The Bushwick Starr, Prelude, Incubator Arts Center, The International Revolutions Festival, The Brick, PS122 (with Terra Nova), HERE and others. Founder of Nellie Tinder, she has been granted support by the Mental Insight Foundation and The Rockefeller Foundation. Audrey Residency, member of The Jam, New Georges Affiliated Artist.
********
LITTLE LORD
SKINNAMARINK
What is this play about? Who wrote this play? Why did he write it? Would you like to grow up without being able to write? Who is a greedy girl? What is a glutton? What is important about the sun and the moon and the wind and the rain and a bug and a bee and a chair and a table and a pencil and a bear and a rainbow and a cat and a–BELL BELL BELL BELL BELL BELL BELL. An exploration of education and indoctrination in America, Skinnamarink is Little Lord's latest "junk spectacular" and 11th original piece for the theater.
Little Lord develops and produces smart, lively, and unexpected performances. Adapting classic, neglected, and found texts, Little Lord plunders the theatrical canon in order to forge new plays from old parts. Founded in 2007 by Artistic Director Michael Levinton, Little Lord's work has been praised as "thought-provoking" and "fearless in its weirdness." Recently: Now is the Time, Now is the Best TIme, Now is the Best Time of Your Life (Abrons Arts Center, 2016); NYTimes Critics' Pick Bambif*cker/Kaffeehaus (The Brick, 2015); Pocahontas, and/or America (Bushwick Starr, 2013). Also: Chocolate Factory, HERE Arts Center, Judson Church, Dixon Place, OHIO Theatre, UNDER St Marks, Incubator Arts Project.
********
CLAIRE MOODEY
FEMME PATHOS
Enter Claire's brain. A psychic parasite lives there: a hungry ghost, her mother. In order to exorcise this haunt, femme pathos breaks open on the Brocken at Walpurgis Night: a gay bacchanal where the doctor and Three Lords attempt to surgically remove the pathogen of misplaced femininity – or was it homosexuality – or some other trauma lodged in the depressed body? Claire and her mother un/become each other in the limbo of a dance-theater-memory spectacle.
Claire Moodey directs, performs in, designs puppets for, and writes theater. In the last year, she directed Megan Lang's Forsaken Nation, Chiori Miyagawa's Five by Five, co-directed Marco Millions with Bess Rowen for Target Margin, and assistant directed David Herskovits on Mourning Becomes Electra for TMT. As a designer and performer, Claire's work was most recently seen in Daphne at IRT. Performing credits include Mettawee River Theater Company's Before the Sun and Moon, Megan Murtha's Songs of Go and Pending, It's Lonely at the Top, and Are You With Us Graham Grant Graven?. As a creator/performer, she has been developing femme pathos since 2014.
********
JEANETTE OI-SUK YEW
AND HERE WE ARE
And Here We Are, a shadow puppetry opera developed in collaboration with Experiments in Opera, is one man's existential perseverance during his internment in the Philippines during WWII. Fusing Indonesian inspired shadow puppetry with animation and video projection, it creates a surreal landscape diving into the narrative ofthe survivor's experience. The protagonist is Edgar Kneedler, the great uncle of the project's composer Matthew Welch. Upon surviving the internment, Edgar went on to become an opera singer. The title of this project is from the Dover Beach poem. Librettist Daniel Neer draws on Edgar's memoir and other internee's stories into one voice with Edgar's psychological evolution at the center.
Jeanette Oi-Suk Yew is a NYC puppetry artist. She devises interdisciplinary productions that experiments with and challenges the notion of puppetry and seeks to use puppetry for contemporary storytelling within a cross-genre context. The NY Times described her direction / conception of Act 4 of O'Neill's The Iceman Cometh, a part of Target Margin's Iceman Lab at HERE Arts, as "consistently inventive". Her immersive production, Are They Edible? premiered at La MaMa to sold-out houses was called "bold" and "inventive". Additionally, her toy theater The Butcher Men was invited to Prague Quadrennial 2006 and MILK, a digital puppetry project on utopia was at Labapalooza 2007 presented at St. Ann's Warehouse (NYC).